Kramp «Gods of Death»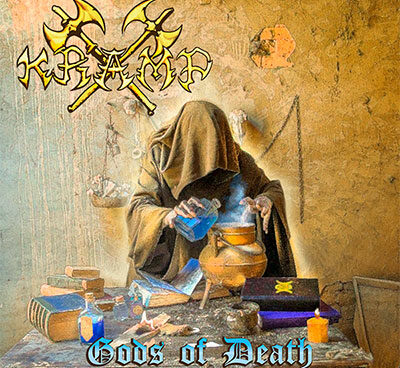 La banda de origen palentino, Kramp, publica su primer álbum «Gods of Death», con un sonido y estética de heavy metal tradicional muy conseguido.
Tras un primer lanzamiento en 2016, el EP «Wield Revenge», vuelven con un álbum de 12 temas que continúa con su propuesta de heavy metal tradicional, tanto en la música como en su estética (estilo ochentero).
Kramp es una banda originaria de Palencia, si bien, debido a cambios en la formación y movilidad de sus miembros, tiene más presencia en la escena de Madrid.
«Gods of Death» ha sido grabado, mezclado y masterizado por Cederick Forsberg, y ha sido editado por Rafchild Records en formato digital, CD, vinilo y casette. El listado de temas es:
Underground Rebellion.
Night Witches.
End Of The World.
Doerum Mortem.
Gods Of Death.
Dare To Face Fear.
Assault.
Speed Of Light.
Walkyrie.
Leather Warrior.
Preserved In Time.
Nos dejan además, el videoclip del corte «Speed Of Light»: