Nasty Surgeons «A Night In The Morgue»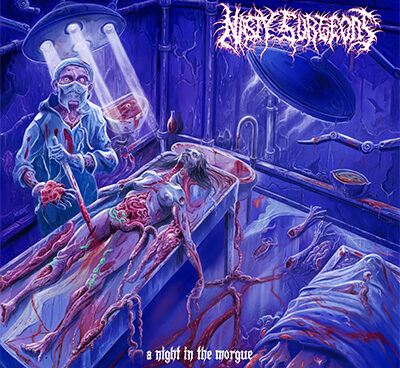 La banda burgalesa de death-grind, Nasty Surgeons, publica su tercer álbum de estudio a través del sello discográfico Base Record Production.
La banda del incombustible Raúl Weaver (Mistweaver, Mass Burial, etc.) vuelve a la actualidad con un disco que consigue acercarse más al grind death de Carcass (influcencia que reconoce la propia banda).
Ha sido grabado en los Undead Studios y mezclado y masterizado en los Moontower Studios. La portada, nuevamente, de la mano de Juanjo Castellano.
A Night in the Morgue está disponible en versión digital, CD, vinilo y casette.
Listado de temas:
Coronary Artery Bypass Surgery.
A Night in the Morgue.
Liston Knife.
Intracraneal Bleeding.
Biological Alert.
Cotard Delusion.
Macabre Ritual.
Purulent Abscess Drainage.
Stab by Stab.
Trepanation (The Search of Evil).
The Torso Murderer.
Massacre in the Operating Room.
Genital Herpes.
El lanzamiento se acompaña de un lyric video del tema Biogical Alert: